2021 Kitchen Cabinet Color Trends
Views: 511 Author: Site Editor Publish Time: 2021-05-12 Origin: Site
Design trends come and go like the wind. Some trends that you thought you'd never see again reappear, if only as mere shadows of their former selves or as sentimental and kitschy nods to simpler times. This is true for both fashion and kitchen decor, and it can be fascinating to track the winds of change in design through the decades. Before we look at kitchen cabinet colors for 2021, let's delve a bit into the past.
Kitchen Cabinet Colors from Past Decades
The 1950s & early '60s saw bright colors, pastels, colorful linoleum, Formica countertops, and steel kitchen cabinets in pink or yellow with appliances to match. Maybe even a wall phone to match the cabinets and appliances. Yes, it must have been a crazy time.
Kitchen cabinet color trends during the late '60s featured bright food-themed colors like orange, apple green, and avocado, especially for appliances and countertops.
The 1970s brought earth tones and particle board kitchen cabinets in dark brown and gold shades. Avocado green appliances and countertops were the rage, with cabinets in rustic browns. Dark wood accents around windows and crown molding at the ceilings were popular, and linoleum (often in orange, yellow, gold or green — to match the carpeting?) was underfoot. And wallpaper, lots of wallpaper.
Today's Kitchen Cabinet Colors
Today, kitchens are trending toward more natural light with bigger over-sink windows and open floorplans. One constant is the overwhelming popularity of white cabinets, most often in a Shaker style. Another trend hitting its stride is two-toned cabinets in navy, light gray, or light green for base cabinets and white or neutral for wall cabinets. Open shelves are also becoming more popular than ever to open up smaller spaces or to complement minimalist designs. Stainless steel appliances, under-cabinet lighting, pendant lights, and an emphasis on more creative workspaces are also taking the spotlight.
2021 Color Trends
White is still the favorite, as we said before. For islands or base cabinets, blue in cobalt or navy, light or slate, will continue to be a solid choice. Gray in warmer tones pairs well with a range of other colors and works as a base for countertops and base cabinets.
Green in sage or mint shades is predicted to make some inroads but in lighter earthy and subtle tones.
A CliqStudios Instagram follower recently suggested that we include darker forest greens — and something called Jasper and Salamander — in our painted kitchen cabinet inventory.
Burgundy and yellow are also in the forecast and seem appropriately trendy. As such, they will likely have more of a cult following.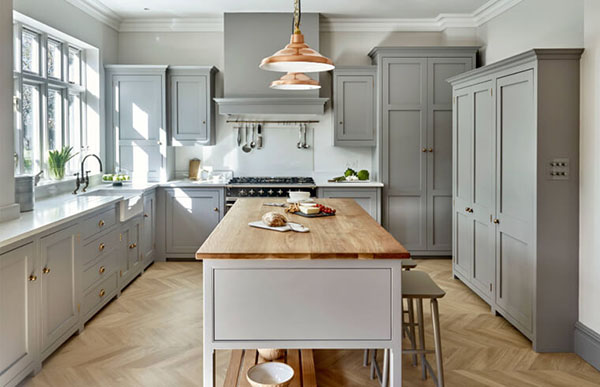 Black is a classic color. But for cabinets? Yes, but in moderation. Shades of black such as charcoal will find their niche in kitchen cabinet colors. A black kitchen can border on the dramatic if too glossy or overly matte. Obviously, as with any darker colors, too much can shrink a kitchen.
Undoubtedly, the top trend in kitchen design is still the use of white painted cabinets. Always a solid choice, white kitchen cabinets complement any architectural style, from traditional to modern. Options for accent colors are unlimited, making for endless creative possibilities. We provide vrious popular colors of kitchen cabinet, contact us if you're interested in any of them.