What Do Kitchen Cabinets Cost?
Views: 472 Author: Site Editor Publish Time: 2021-07-09 Origin: Site
Due to the wide ranging differences in materials and quality, kitchen cabinets cost anywhere from $2,500 to $24,000. However, most new cabinet prices are between $4,000 and $13,000. This wide price range can be divided into three cabinet categories.
Average Kitchen Cabinet Costs

Below is a sample kitchen showing expected average kitchen cabinet costs based on average price per linear foot. Cabinets are generally measured in linear feet. Linear feet are calculated by measuring where cabinets are needed and adding up the total number of feet. The example below shows how cabinet prices for a kitchen can vary based on the type of cabinets. Per linear foot prices are from Home Advisor.
· Stock Cabinets: $2,500 - $7,500 for 25 linear feet
Based on Home Advisor's $100 - $300 average cost per linear foot of cabinetry
· Semi-Custom: $3,750 - $16,250 for 25 linear feet
Based on Home Advisor's $150 - $650 average cost per linear foot of cabinetry
· Custom Cabinets: $12,500 - $30,000+ for 25 linear feet
Based on Home Advisor's $500 - $1,200 average cost per linear foot of cabinetry
As you decide on cabinets for your kitchen renovation, you may be wondering why cabinet prices vary so widely. Cabinet costs are affected by things like construction, materials, modification options and even where you live and purchase them from.
Determining which cabinets are right for you involves more than just looking at the price tag. Cabinets need to suit your style, provide storage solutions and have durability that fits your lifestyle and home. Make sure the brands you are considering offer all of the options you want. It's also important to be aware that these features will cost more.
As you set a budget and see the costs of different cabinets, be sure to factor quality into the equation. One cabinet brand may seem like the cost effective choice. However, cabinets of higher quality with more customization options may actually be a better value overall. Learning about how to compare cabinet costs will help you choose the right product.
Our Kitchen Cabinets
· Lacquer White & Grey Modern Kitchen
This lacquer matt finish kitchen features charcoal grey and pearl white two tone colors in a stylish yet simple finger pull door style.The breakfast bar with heavy solid wood and simple design adds warmth and primitive feeling to this contemporary style kitchen.
· Modular light Kahki Lacquer Kitchen Cabinet Design
The kitchen features earthy yellow matt finish painted flat-panel cabinets, with simple and sleek stainless steel color laminated open cabinets and a stainless steel countertop. The long handles, stainless steel kickboard, and large pantry cabinets showcase great visual interest and elegance to this modern kitchen design.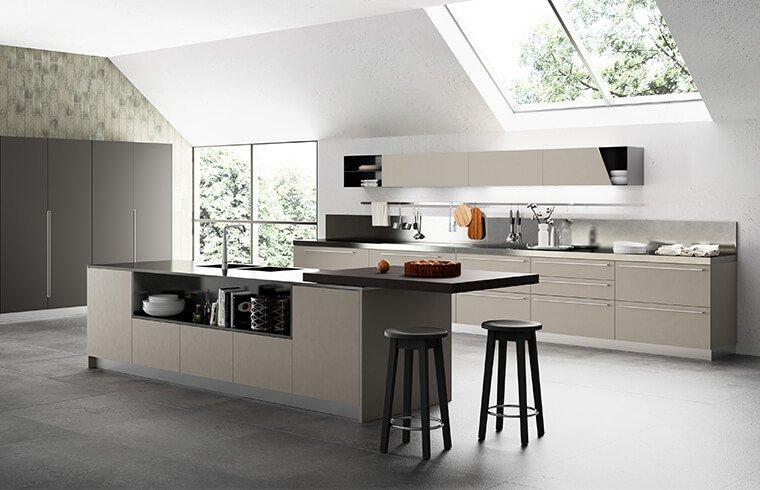 · New Model Modern Matt Finish Grey Lacquer Kitchen Cabinets
A warm, cosy atmosphere, beautiful textures and colors, harmonious shapes. The strong point of this kitchen design is underlined by dark color aluminum framed door echoing the ample dark steel color table and wall hung open shelving rack.
Light grey painted doors for base units, short wall units; Brown oak for pantry and open shelves, dark granite countertop with thick apron and thin back splash all the way to the top of the wall units.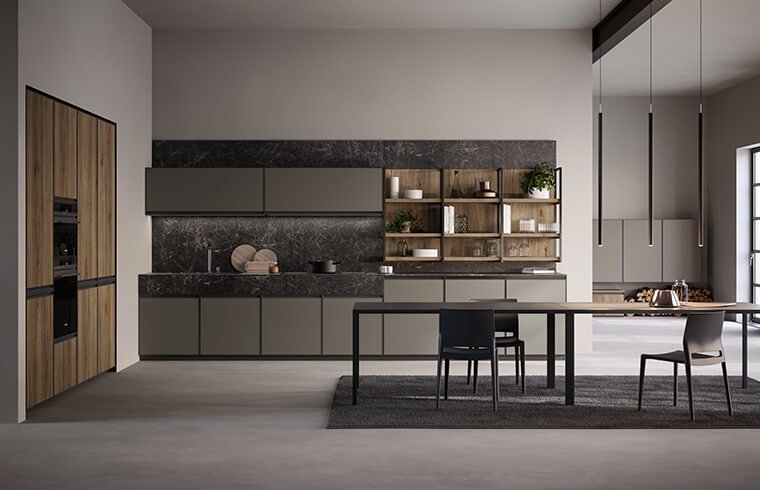 We can build the dream kitchen cabinets for your dream home. You dream it, we design it. Please feel free to contact us!