Types of Wardrobe Cabinets: The Advantages and Disadvantages
Views: 727 Author: Site Editor Publish Time: 2022-11-14 Origin: Site
A wardrobe cabinet is one of the main pieces of furniture after a bed/mattress in a bedroom. It is essential for keeping all of your clothing necessities organized and safe from harm.
Everybody has their expectations of the ideal wardrobe cabinet for their needs, bedroom size, and system of organization of things, hence there are different types of wardrobe cabinets.
Fortunately, whatever your choice, BFP Carpentry wardrobe cabinets have a wide selection of options to meet all of your needs for aesthetics, organization, and storage.
In this article, I will be sharing with you some wardrobe cabinet options and their advantages and disadvantages.
Types of Wardrobe cabinets
Here are five different types of wardrobe cabinets option to choose from.
1. Walk-in Closet Wardrobe Cabinets
If you have an unlimited budget and a large bedroom, you will want a wardrobe cabinet option for optimal storage, a walk-in closet is the best option.
A walk-in closet wardrobe contains a vanity, dressing tables, numerous shelves, designated hanging spaces, corner shelves, and other features are included. They are good custom designs for the storage and organization of things and collections.
The advantage of this wardrobe over other types is that the various features of other wardrobe types like mirrored dressing tables, sliding door hanging spaces, and hinged shelves can all be combined into it.
The only constraint is that walk-in closets are expensive. However, their elegance, robustness, and adaptability make them priceless investments.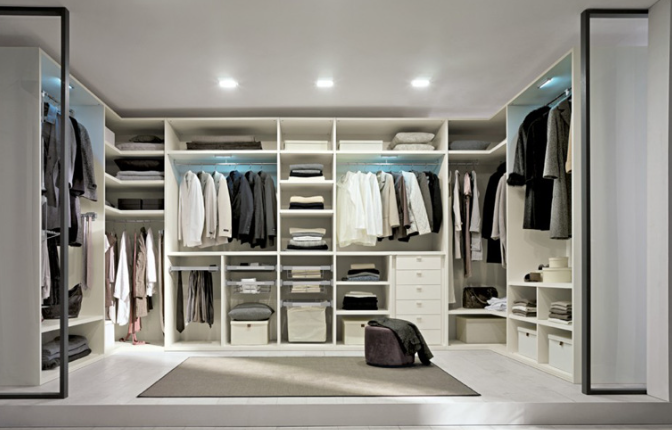 2. Swing Door wardrobe cabinets
Swing door wardrobes are the most typical type of door where the shutter is attached to the closet with hinges. These are the standard option for wardrobe cabinets.
They come in various designs and colors and have been long available in the wardrobe market.
3. Sliding door wardrobe cabinets
This is simply a two or more sliding panel doored wardrobe cabinet. Glass, metal, and wood are major materials used to make the doors.
They are therefore perfect for compact spaces like studio apartments and small-sized rooms as they don't take up much space when opening and closing and make the best use of available space.
However, the downside is that they cost more money than other wardrobe cabinet types. It also requires carefulness and caution when opening and closing the doors to prevent harming the rollers.
4. Hinged wardrobe cabinets
Hinged wardrobe cabinets are the most common wardrobe cabinet design. Its design simply includes hinges on each door of the cabinets. The two main choices for materials for hinged wardrobes are wood and plastic.
The major advantage of hinged wardrobes is their cost-effectiveness. You can therefore locate a suitable storage solution regardless of your budget.
The drawback of hinged wardrobes is that they take up more space to open and close. They are therefore inappropriate for confined spaces. Additionally, the hinges might become weaker with time, necessitating a replacement.
5. Mirrored wardrobe cabinets
Mirrored wardrobes are either sliding doors or hinged wardrobes with mirrors. They are a great option for compact space. They enhance the aesthetic appeal of an ordinary space into a fantasy bedroom.
Mirrored units cost a lot of money as sliding door wardrobes do. Additionally, you must be cautious not to break the glass and take a little extra time to clean the mirror so that it is not dirty.
Want to get wardrobe cabinets?
Contact us for the purchase of your wardrobe cabinets
BFP carpentry is a reputable company that offers high-quality wardrobe cabinets at affordable prices.
To place an order for your high-quality wardrobe cabinets, please click here.