Vanity Cabinets: Your Best Option
Views: 626 Author: Site Editor Publish Time: 2021-11-15 Origin: Site
Beautification of homes is one of the important considerations made by home owners during the construction of modern building.
Special designs ranging from locations such as the living room, dining room, bedroom, bathroom up till the kitchen.
Remodeling a bathroom is a big undertaking, with many decisions to be made about every aspect of the remodel including the colors, layout, lighting, and baths are all part of the overall design.
Many homeowners who require bathroom or kitchen remodeling hire professionals to assist them with all of these selections and to ensure that the projects are executed correctly.
While there are many things to consider when remodeling a bathroom or kitchen, homeowners should consider how essential a vanity cabinet is to the overall aesthetics of the space
Have you ever seen a cabinet that fascinates you? If not, you should consider checking out for the vanity cabinets.
In this article, you would be given you an insight to what a vanity cabinet is all about.
Every Bathroom Remodel Needs a Vanity
Vanities give a bathroom both utility and style. They should be picked for their practicality as well as how well they blend with the bathroom remodel's design style.
Some homeowners fall in love with a particular vanity while looking at samples of refurbished bathrooms for ideas, and they decide to build their entire bathroom around it.
Vanities are used for a lot more than just storing the sink. They give counter space, storage, and a way to cover the plumbing (unless exposed plumbing is desired, in which case vanities are available).
An excellent bathroom vanity is a versatile workhorse, serving as a surface for washing, shaving, and applying cosmetics, as well as hiding pipes and holding a plethora of amenities even when you are making use of a very little space.
Vanity cabinets can range in size and price from small, low-cost cabinets that contain a single sink to large, double-wide cabinets that accommodate a double sink and countertop to highly pricey cabinetry that mimics the look of great antique furniture.
The cabinet hides the drain waste pipes and water supply pipes in each case.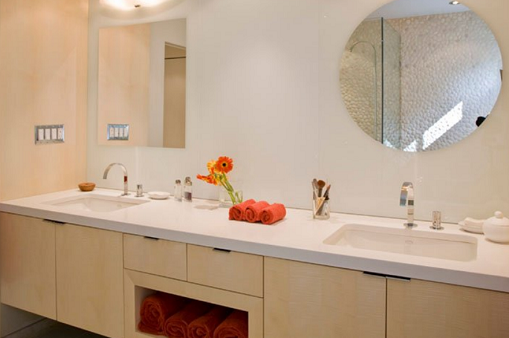 Plastic laminate, ceramic tile, and other materials can be used for the counters that cover the vanity cabinet and support the sink.
Bathroom vanity cabinets are available in a variety of styles from which to choose, depending on your design preferences. They come in single and double sink configurations.
When it comes to picking bathroom vanity designs, the size of the bathroom is also important. Bathroom Vanity Cabinets, mirrors, and under counter storage space help to decrease clutter and make the area more practical.
Single or double cabinets are available. The console bathroom vanity is both stylish and functional. Choose from a variety of classic and conventional vanity cabinets that are becoming increasingly trendy.
Vanity cabinets and storage help to organize and declutter your bathroom.
Partner with us for premium vanity cabinets
Do you know that the design of your bathroom can be reshaped by just changing and making use of a vanity cabinet?
Contact us today for your vanity cabinet with the improved quality and design that suits your fashion purpose.