Different Types Of Contemporary Kitchen Cabinets You Will Love
Views: 598 Author: Site Editor Publish Time: 2022-07-20 Origin: Site
You may have seen contemporary kitchen cabinets outside of your house that you'd like to use inside of your kitchen.
However, you should be aware of the various styles of contemporary kitchen cabinets, all of which are lovely possibilities, before making the important decision to install new ones.
Various contemporary kitchen cabinet kinds will be discussed in this article.
Different types of contemporary kitchen cabinets
The following are the various styles of contemporary kitchen cabinets:
Shaker
The Shaker style is currently the most popular for contemporary kitchen cabinets. Five flat panels make up the Shaker style, four of which form the frame and one of which serves as the single flat center panel.
This concept is well-liked because it gives traditional or contemporary designs a basic, timeless appearance.
Shaker cabinets include several distinguishing features, such as flat paneled doors with rail frames, strong construction with high-quality wood, and practical designs.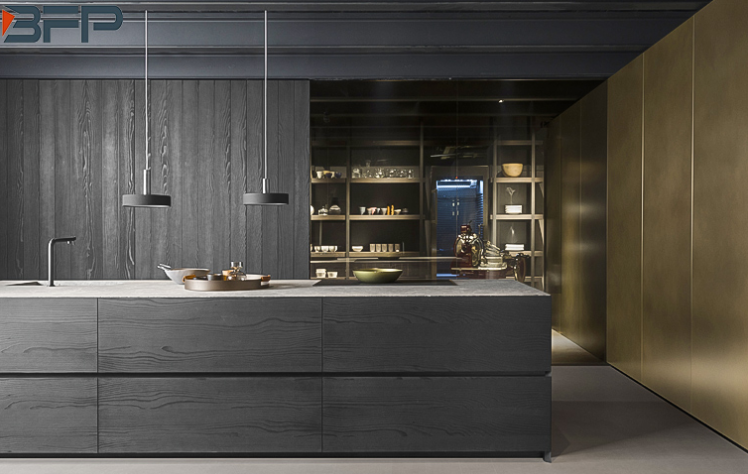 Louvered
Contemporary kitchen cabinets with louvered doors also cost a lot of money and include horizontal wooden slats. Louvered cabinets, which have a pattern commonly found on windows, furniture items, and interior doors, give kitchen cabinetry a distinctive look.
According to Houzz, the majority of louvered doors include openings between each slat, making them ideal for places that need ventilation. Remember this when searching for cabinet doors in a laundry room, pantry, or cabinet for a drying rack for clothes.
Flat-Panel or Slab
Kitchen cabinet doors with flat panels also referred to as "slab" doors, are minimalist yet fashionable. Kitchen cabinets with flat panels have simple, harsh lines without any pricey details.
The flat-panel cabinet's straightforward design makes it a perfect fit for both modern and contemporary kitchens. Various methods can be used to build flat-panel cabinets.
Inset
Inset-style cabinets are constructed comprised of an inset door set inside the cabinet frame as opposed to outside the frame like standard cabinet doors, as suggested by their name.
Although inset contemporary kitchen cabinets and kitchen drawers are among the priciest items available, their timeless appearance can last for years. Create custom cabinets with beaded or non-beaded inserts using inset cabinetry, which is simple to customize.
As opposed to the standard concealed hinges that many other cabinet door styles offer, this cabinetry style typically calls for exposed hinges.
Contrary to concealed hinges, which are already included in the price of the cabinet box, inset cabinets require you to buy two hinges for each door, which can quickly mount up in terms of expense.
Beadboard
Beadboard contemporary kitchen cabinets have a more dynamic appearance than some other styles, such as flat kitchen cupboards. It is made of rows of vertical planks with depression or ridges, known as "beads," between each blank.
This sort of cabinet door has texture due to the appearance of the beads, and it is ideal for a kitchen in a farmhouse- or cottage-like setting.
If the all-white beadboard contemporary kitchen cabinets seem to be the finishing touch for your cottage-style kitchen, keep in mind that maintaining and cleaning the style's crevices and cracks can be challenging.
Custom
Custom contemporary cabinets are the solution if you can't locate a contemporary kitchen cabinet door style that properly complements your kitchen in stores. To build your own unique kitchen cabinet design, get in touch with a local designer or craftsperson.
Contact us for your contemporary kitchen cabinet
Do you need to enhance your kitchen in more ways than just installing new cabinets and drawers? If yes, then we are here to help you out.
Before making a purchase, please click here to get in touch with us and find out more about our products and services.