When looking for a streamlined kitchen, cabinets are the key to adding functional and aesthetic value, from modern and minimalist designs to bold and traditional classics. As we enter 2023, the kitchen cabinet industry buzzes with unique trends and innovations, promising to transform our mindset about kitchen design.
Renowned brands set the bar high with exceptional craftsmanship and attention to their sensitivities. Thus, make your kitchen look stunning and provide ample storage space for cooking essentials.
Explore the top 10 kitchen cabinet manufacturers of 2023 offering a diverse range of styles, materials, and colors that cater to your interest and budget.
Top 10 Kitchen Cabinet Manufacturers List
Discover the perfect cabinet manufacturers in 2023 for your dream kitchen.
1. BFP Cabinetry
Are you looking for modern, luxurious kitchen cabinets in China? Look no further than BFP cabinetry!
When it comes to kitchen cabinets, functionality, and minimalism are the first things to consider—providing customized kitchen cabinetry with state-of-the-art material, professional craftsmanship, competitive price, and reliable services.
The kitchen cabinets are a popular choice for homeowners to upgrade their kitchen with premium, customizable, eco-friendly practices. Its sustainable materials minimize environmental impact. Therefore, fill your kitchen space with quality, sustainability, and eco-friendly cabinetry.
BFP equips your kitchen space with durable and practical cabinets, a drawer system, a slim design, and smooth running action. Also, the finest cabinet inner dividers are flexible to organize kitchen essentials with longevity and environmentally friendly solutions.
Style, layouts, materials, and size, you can shop your cabinets from all features. From contemporary, transitional, traditional, and rustic kitchen cabinets, you can make a difference in your kitchen with an embellished space.
2. IKEA
A Swedish mass retailer, IKEA offers stylish, compatible, and affordable furniture and kitchen cabinets. Their cabinets come in multiple sizes, configurations, and designs, making it easy to customize your kitchen to your specific needs.
It's a one-stop shop to grab easy-to-install kitchen cabinets designed with particleboard, wood, and melamine to furnish your kitchen. They employ plywood and hardwood to frame kitchen cabinets, making them durable, robust, and resilient.
With IKEA's 3D kitchen planner, designing a kitchen had never been so easy and cost-effective. For kitchen enthusiasts, its kitchen cabinets are a fantastic alternative to expensive custom cabinetry.
In addition, you can get economical kitchen cabinets coupled with many kitchenwares, including countertops, fixtures, and appliances. IKEA is an excellent choice for homeowners looking to renovate their kitchen with exceptional quality that has gained customer satisfaction.
3. KraftMaid
One of the stellar cabinet manufacturers in the U.S., KraftMaid's semi-custom styles, finishes, and wood pieces are the best fit. KraftMaid is renowned for its American-style inventory design.
Besides its sturdy and resilient cabinets, you can obtain them from plenty of other retailers, such as Lowe's, The Home Depot, or independent dealers.
A key feature of KraftMaid is the customizable options, providing multiple door styles, hardware, and accessories for the home or kitchen decor. Their high-quality craftsmanship, from traditional to modern designs, ensures durability and longevity.
Furthermore, durable, resilient and long-lasting premium materials such as solid hardwood, plywood, and particleboard furnish seamless designs. You can also avail of various storage options, pull-out drawers, lazy susan, and specialty cabinets to help maximize kitchen storage space.
KraftMaid cabinets are certified by the Kitchen Cabinet Manufacturers Association (KCMA), providing high quality and safety standards. Hygge-style kitchen design to cozy kitchen ideas is all you get in KraftsMaid, the perfect aesthetic kitchen you dreamt of.
4. CliqStudios
The most trusted furniture studio CliqStudios has been working on more than 30,000 kitchen accessories since 2010. They craft low-cost unique home furniture specifying your space. CliqStudios company offers you to plan your designs of cabinets, cupboards, and other furniture items of your choice.
The kitchen cabinets are made of good-quality hardwood and plywood. High-class materials are used in manufacturing the products for your kitchen. It's totally up to you how you like to order, a classic or updated one.
Moreover, the company presents 3D furniture structures to give a better look from every angle. They customize their project size and design for their customers. You can also have a quick cost estimate of your order on the website.
5. Wren Kitchens
Wren Kitchens is a renowned kitchen retail company in the U.K. It is known for its superior work, as Wren Kitchens has been selling more than 2000 kitchen sets per week. The variety and quality are not compromised; all good and classy accessories are available for your kitchen.
Wren Kitchens have over 100 plus showrooms within the state. One can visit and buy kitchen accessories of their choice. Wren also grants sweet gifts and discount offers on purchasing kitchen accessories.
Its quality products at cheap rates build buyers' trust and encourage them to purchase. The company has designed an app to ease customers, checking out the wide range of cabinets, shelves, counters, and sinks at home. Highly rated company for setting up your home kitchen at low prices.
6. OPPEIN
OPPEIN has been China's biggest wholesale kitchen cabinet market since 1994. OPPEIN specifies a wide range of kitchen cabinets, countertops, kitchen appliances, and many more accessories to discover. In OPPEIN, you get all you would need for your kitchen.
OPPEIN is a budget-friendly kitchen accessories manufacturing company. They customize products and accessories according to the customer's needs. Observe your kitchen layout to modify design, color, and size.
This company has become the world's biggest kitchen wholesale market. Therefore, OPPEIN manufactures innovative products delivered to over 128 countries. This company's low-cost branded products are the primary reason for its popularity.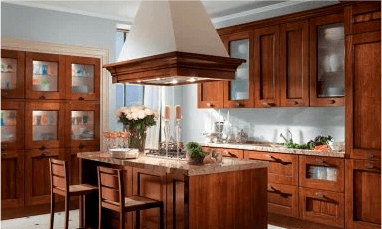 7. PORCELANOSA
As a global leader, it manufactures and distributes high-quality ceramic and porcelain tiles, bathroom furnishings, kitchen cabinetry, and home decor items. If you love European-style kitchen cabinets, PORCELANOSA is best suited to enhance your kitchen's luxury.
Since 1953, founded in Spain, PORCELANOSA has expanded its operations to over 150 countries where its designers construct euro cabinets with plywood boxes, high-gloss finish, and thermofoil application. Porcelain, natural stone, and glass are processed and carved to turn into contemporary kitchen cabinets.
Its Spain factory carves sophisticated designs to transform your home's heart into a contemporary space. The craftsman assists you in choosing the cabinet's configuration, utensils, and finish choices.
European-style cabinets add a personal touch with an iconic look. So, streamline your kitchen cabinets with PORCELANOSA's modern, sleek, stylish, and high-end designs.
8. The RTA Cabinet Store
RTA cabinet store stands out because of its offerings in myriad styles, saving money on shipping and labor costs for installation. RTA is known for its top-notch cabinets, affordable prices, and excellent customer satisfaction, where it hits the mark.
From cabinets and countertops to floorings, RTA cabinet stores feature ready-to-assemble and pre-assembled bathroom and kitchen cabinets, all in one shop! Get your custom kitchen with contemporary, classic, and transitional styles.
In addition, its designers render professional kitchen planners for 3D remodeling. Plywood box and solid wooden frame pieces of American and European style, promising a 20-year warranty on its home essentials.
RTA's commitment to providing seamless customer experience sets it apart from others. Whether looking for traditional white shaker cabinets, sleek, bold cabinets, or something in between, you must find it here.
9. Cabinets To Go
In 2008, Tom Suvillian set up a retail store specializing in advancing kitchens and bathroom renovations with custom-built stock cabinets. They offer various cabinet styles, colors, finishes, and sizes to fit your aesthetic sense and budget.
Expert designers create a custom layout and 3D models for your new space so everything fits perfectly. Cabinet To Go offers exceptional services to help customers with a smooth renovation process.
The brand ensures the customer receives kitchen cabinets quickly and efficiently. The enormous inventory of cabinets available for immediate delivery allows renovation projects to start immediately. Kitchen countertops, stainless steel faucets, hardwood flooring, and mudroom cabinets - get anything you want!
10. OPPOLIA
OPPOLIA keenly focuses on your kitchens to turn them into the luxurious part of your home. Offering bulk modern kitchen cabinet orders wholesale at discount prices is the best choice for one who is thrifty.
It delivers a series of kitchen accessories and services, whether high-end quality design or easy installation in space. Solid wood, lacquer, laminate, and melamine materials provide a seamless frame and stunning linear texture.
Durable cabinet material, finishes with high quality, meeting international standards. Like custom kitchen cabinet manufacturers, Oppolia is an experienced company tailoring semi-custom and custom cabinets. Custom European kitchen cabinets offer sleekness and luxury, an aspiration for a better kitchen.
Bottom Line
The top 10 kitchen manufacturers set a platform for this year's exciting and innovative kitchen design. From classic to modern, affordable to luxury, there's something for your home that fits your styles and budget.
With BFP cabinetry's commitment to sustainability and durability, this kitchen cabinet brand ensures your investment lasts years. It induces creativity and quality with cutting-edge designs and superior craftsmanship to elevate your kitchen to the next level of style. Whether renovating your kitchen or building a new one, check out their cabinet accessories.