Tips For Enhancing The Appearance Of Your Walk-In Closet
Views: 562 Author: Site Editor Publish Time: 2022-05-05 Origin: Site
Most people believe that having a walk-in closet is a luxury that only celebrities and the very rich can afford. They perceive it as something to imagine and dream about.
The truth is that having a walk-in closet in your apartment does not require a million dollars. They don't even require a vast space to be installed.
BFP cabinetry industry has a team of highly experienced and competent designers who will assist you in designing a Walk-in closet that is suited for your taste, space size, and budget.
In this post, we'll show you how to improve the appearance of your walk-in closet by making it more attractive, well-organized, and visually acceptable.
A walk-in closet can be utilized as a dressing room in addition to storing your clothing, shoes, and jewelries in a neat and organized manner. You can try on some clothing to find the appropriate look for the occasion.
Do you want to give your walk-in closet that million dollar look? Here are some pointers to help you achieve just that.
1. Choose the right space to install it
When choosing the space for your walk-in closet, do keep in mind that you don't need a gigantic room to install your it. You can use a spare bedroom or a dressing room.
You can even transform your closet space into a walk-in closet. The main use of a walk-in closet is to keep you clothes, shoes and other dressing accessories highly organized.
A well-designed and installed walk-in closet shouldn't take up much space. The cabinets are usually assembled on or close to a wall, giving you enough space to walk around.
2. Keep everything consistent
Everything in your walk-in closet should match. Your colored hanger, baskets and every piece in your closet should be of the same type and should match with the color of the cabinets.
Although, this can be a bit challenging at first, but at the end, your walk-in closet will look amazing and aesthetically pleasing to the eyes, and you would be proud of it.
3. Organize your clothes
When organizing your clothes, there are two different way you can go about it. You can organize them by color or by type. You can even use both, depending on the size of your closet.
Using color to organize your clothes makes your walk-in closet visually appealing. It also will help you easily locate your clothes, since it is easier to identify color compared to cloth design.
To organize your clothes based on type, for example, you will want to have all of your shirts in one section and your coats in another section. Every type of garment you own should have their section.
4. Have enough lighting
Lighting is an essential feature for your walk-in closet. You need a lot of it. Your walk-in closet should be really bright so that everything can be clearly viewed.
Get rid of the old yellow helium bulbs and invest in white bright daylight bulbs. The white daylight bulbs help to illuminate the whole area. This helps to make each color stand out no matter how similar they are.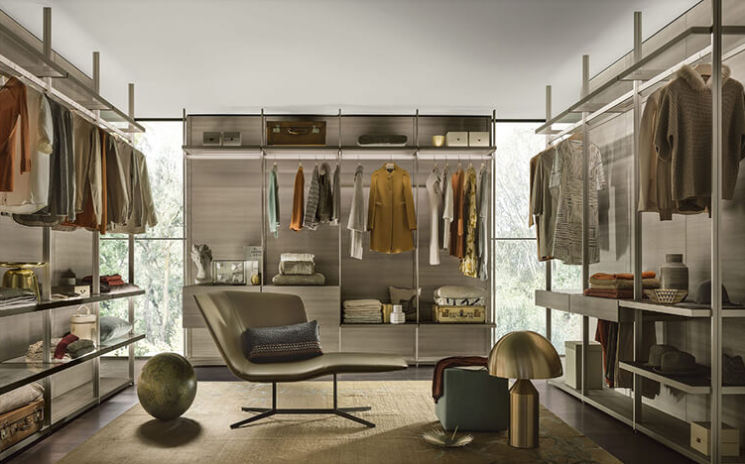 5. Get a full length mirror
If your walk-in closet is large enough to also serve as a dressing room, then you would need a full length mirror. Even if you don't have enough space for it, just hang it at the back of your door.
After dressing, you will need a mirror to view how your outfit looks like. A mirror is something you use every day, so it is worth having in your walk-in closet.
Partner with us for a fully designed walk-in closet.
Due to its ability to keep clothes, shoes and jewelries arranged and displayed in a highly organized and attractive manner, walk-in closet are not only used in boutiques but are now used in many houses.
Our team of highly professional designers can make a walk-in closet that is beautiful and affordable. We have a good number of designs you can choose from. Click here to view them.