You will hardly work through a house with finding a television set in the entire house. This is because a television (TV) set is one of the major appliances in homes.
However, it is very important to have a stand on which your TV can be placed to sit properly, in order to maximize the use of this appliance and ensure its longevity.
A TV wall cabinet is more like a TV stand with doors made of either wood or glass partitions, also having shelves in it. This cabinet is attached to the wall with the television placed in or on the cabinet.
There are different types of TV wall cabinets fashioned according to the taste of the user. However, there are other conditions to getting the right cabinet for your television.
But you must ensure that you purchase your TV wall cabinet from a very good manufacturer so that you have no regrets after your purchase.
Conditions For Selecting TV Wall Cabinet
As mentioned above, there are other conditions to take to heart when selecting a TV wall cabinet for your television. So, let's take a walk through these conditions.
1. To match the room size
The sizes of rooms differ from one to another, so a particular cabinet may not be fitting for another as original design for a particular room.
Your TV wall cabinet is the central focus of your living, however it doesn't need to occupy a large portion of the room. So, you need to measure your room before you embark on the journey to looking for your right cabinet.
To ensure your TV fits perfectly on your cabinet, your cabinet length unit that is 20% longer than your television.
Noted: your cabinet should not be smaller than the TV, because some televisions like flat screen has a base to distribute it weight. You won't your TV to fall off the cabinet and then causing an even bigger problem.
In addition, ensure the unit has the sufficient weight capacity to support your television.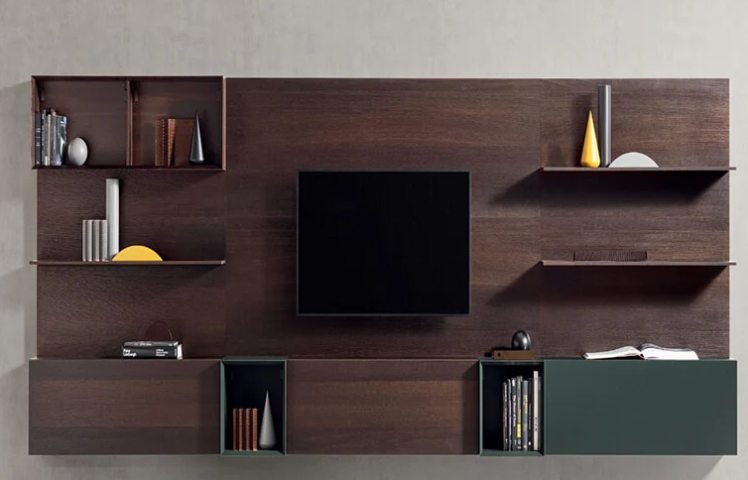 2. Proper viewing height
To have maximum satisfaction when watching your TV is tied to the height of your television screen.
Positioning your screen at the perfect height might be difficult to do. However, you get a TV wall cabinet that possibly positions your screen at a comfortable eye-level.
If your want a customized wall TV cabinet, measure the level of your eye when seated. Ensure your eye level meets directly at the central region of your TV, and not your TV above your the level of your sight line.
You may also want to purchase a TV that has an adjustable mount, to adjust the display so that it's perfectly comfortable for you.
3. Shape best fitting for the room
This condition is negligible at times but it's also very important. The shape of your room also determines the size of TV wall cabinet you may want to pick for your TV.
Nevertheless, if you are lover of space and have a large proportioned room, you will want to smile now. This is because, any size or shape of TV wall cabinet can fit perfectly into your room provided that the entire style of the cabinet goes with the decoration of your room.
But if your living has an odd shape or it's narrow, what do you do? Don't panic! You can still make the best out of it and enjoy watching your TV with a good popcorn.
That is why there are different kinds of TV wall cabinet. All you have to allow your supplier have a view of your living room and you will get the cabinet suitable for your room and comfort.
4. A style complementing your room
You will greatly agree with this point. This is because it is very true and very important.
You don't want to have your house looking unpleasant. So, you must select a TV wall cabinet that matches the furniture in your room. This may include the kind of material used in manufacturing the cabinet and it color.
This creates a sync in the room at the same time gives a cozy feeling. For instance, in contemporary spaces, you should avoid using cabinets that appear too stark or impersonal.
5. Always remember storage
Ensure your television is free of clutter as this way is the best when it comes to displaying your TV.
The amount of set-top boxes and consoles you intend on storing is another thing to take into consideration. Take measurements of their dimensions each, so that you get a cabinet that can comfortably house them.
Get a TV wall cabinet having drawers, and sliding or shelving doors in which you store away your remote controls, DVDs and headphones.
Purchase Quality TV Wall Cabinet From Us
We have a wide range of quality TV wall cabinets to satisfy your desire be it classy, contemporary or traditional. We are a reputable company with good records and remarks from customers cutting across countries.
We are ready to provide you with the best TV wall cabinet that best suit your TV, and your room and meets your desire. Kindly contact us today.