Are you considering renovating your kitchen and wondering what type of cabinets to choose? Look no further, in this article we will dive into the world of kitchen cabinets. We will explore the various types of cabinets available on the market, popular materials for construction, and trending styles that cater to different design preferences. Plus, if you're feeling adventurous, we'll even provide you with a step-by-step guide on how to build your own kitchen cabinets!
Types of Kitchen Cabinets:
Base Kitchen Cabinets
Base cabinets are a type of kitchen cabinet that provide storage and support for countertops, sinks, and cooktops. Typically installed on the floor, they are considered permanent fixtures that are attached to the wall. Base cabinets usually feature exposed legs or toe kicks, which are long strips of wood covering the base.
With four doors, two functional drawers, and two false cabinet drawers, base cabinets are versatile and suitable for modern kitchens, laundry rooms, and bedrooms. When combined with wall cabinets, they create a cohesive look that complements both traditional and contemporary kitchen designs.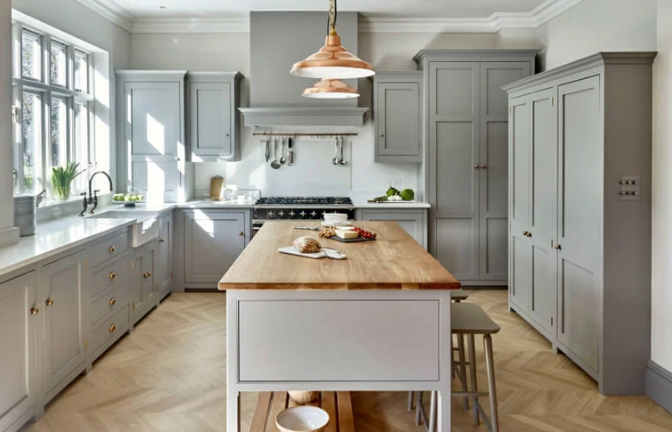 Wall Kitchen Cabinets
Wall cabinets, on the other hand, are designed to be mounted above the counter space, providing additional storage space without taking up precious floor space. While similar in construction to base cabinets, wall cabinets lack drawers and typically feature paneled cabinet doors, stiles, box frames, and hanging rail frames.
Tall-Standing Kitchen Cabinets
Tall-standing cabinets are a common sight in modern kitchens, with their full height extending from the floor to the ceiling. They offer ample storage space and can double as broom closets due to their size. These tall cabinets add an element of drama to the kitchen, creating a striking vertical look.
Corner Kitchen Cabinets
Corner kitchen cabinets are specially designed to maximize the use of space in the kitchen's corners. Due to the natural block created by straight cabinet doors and the difficulty in reaching cabinets deeper than 24 inches, corner cabinets typically feature non-standard configurations. They may include upper and base cabinets and come in various styles, ranging from custom cabinets to drawers. The primary challenge is attaching the cabinet doors without disrupting the flow of inset cabinetry while optimizing the space inside and outside.
Cabinet Materials:
Here are three popular materials for kitchen cabinets that you can consider when renovating:
Solid Wood
Solid wood cabinets are breathtakingly beautiful and unique. Depending on the type of finish, they offer a natural wood shine that adds a touch of elegance to your kitchen. The surface treatment also plays a crucial role in extending the life of your solid wood cabinets.
This material is commonly used in high-end kitchens and pairs well with solid wood doors to create a seamless transition between the interior and exterior design. However, if you have a tight budget for your kitchen remodeling, there might be more affordable options than solid wood. Despite the high cost, solid wood has several benefits, including:
It is strong and durable.

Scratches and dents are easy to repair.

Responsibly sourced wood is highly sustainable.

The material offers style versatility in terms of the type of wood, paint, and finishing options.
However, wood is susceptible to expanding and contracting due to changes in humidity levels. Additionally, the high cost of solid wood may not be practical for everyone.
Plywood
If you're working within a limited budget, plywood is an excellent option for your kitchen cabinets. The material is easy to paint in any color of your choice when updating your kitchen. Plywood offers several advantages, such as:
Easy repairs in case of chipping or damage using wood filler.

Lightweight, making it easy to work with when building cabinets.

Inexpensive and available in different grades, giving you the flexibility to choose the most suitable for your budget.
However, plywood can have imperfections such as knots and gaps, which need to be watched out for when installing cabinets. Additionally, the material is weak and can easily break if overloaded.
Medium Density Fiberboard (MDF)
Many homeowners prefer MDF kitchen cabinets due to their versatility and affordability. They are easy to clean and can last for many years with proper care. The material has a high density and consistent structure, making it easy to create 3D cabinet door designs using high-speed CNC cutting tools.
MDF can be cut into different shapes and sizes when building cabinets. It also offers these benefits:

Moisture resistance due to its wax and resin composition.

Ability to customize the size and shape for awkward cabinet spaces.

Smooth surface that is easy to apply laminate or paint for a desired finish.
However, MDF may not be suitable for areas with high temperatures and tends to be weaker than other materials discussed.
Stainless Steel
Stainless steel is often used in professional kitchens. Unlike wood, this material doesn't expand and contract, making it a great material option for moisture-rich kitchens.
Cabinet Styles:
Traditional Style
The traditional cabinetry style draws inspiration from the golden age of Europe and is the most formal option. These cabinets are often adorned with ornate carvings and feature doors with raised panels, sometimes even incorporating an arched design. Traditional cabinets are typically found in richly colored woods.
Shaker Style
Shaker-style cabinets are highly versatile due to their simple frame and panel structure that can fit in with either traditional or contemporary designs. This style originated from the Shaker religious group that migrated to the American colonies in the 1780s. The group became known for their smart, utilitarian design, including the famous peg rail. Shaker cabinets usually feature a five-panel door made up of a four-piece frame with a flat panel in the center. While traditionally made from high-quality American wood, it's now becoming more common to see them painted in various colors. Some homeowners choose to paint upper cabinets one color and lower cabinets another for a modern look, while carved details may receive an antiquing or glazing effect.
Country or Farmhouse Style
Both country and farmhouse cabinets are a more relaxed version of traditional cabinetry. They incorporate materials like beadboard, shiplap, tin metal, reclaimed wood, and sometimes glass doors or open shelving to create a charming feel. Country or farmhouse cabinets are usually painted, with white being the most popular color. However, other hues like yellow, red, charcoal gray, and black are becoming more common too. Although there might be some mixing and matching of cabinet styles and colors throughout the space, the overall color concept is driven by casual comfort.
Modern Style
Modern cabinetry is the least detailed style, featuring flat panel doors with little or no molding or trim to create an unfussy, clean look. Naturally stained wood with minimal grain, like maple, is common for this style of cabinetry. If painted, the most popular colors range from deep blues to black, white, and gray, but almost any color could work. Bright yellow or orange can easily fit in a modern kitchen. Cabinets might also receive a high-gloss or lacquered finish for an ultra-sleek effect.
How to build kitchen cabinets step by step?
Gather Your Materials and Tools
Before starting your DIY kitchen cabinet project, it's important to have all the necessary materials and tools on hand. Here's a list of what you'll need:
Taking Measurements:
Tape measure

Planning grid or scratch paper

Pencil

Calculator

Ladder or step stool

Level ruler

Laser measuring tool for double-checking measurements
Tools:
Table saw or circular saw
Drill for making round holes and installing fasteners
Pocket hole jig
Take Accurate Measurements
Before building your kitchen cabinets, it's crucial to take accurate measurements. Here are some tips: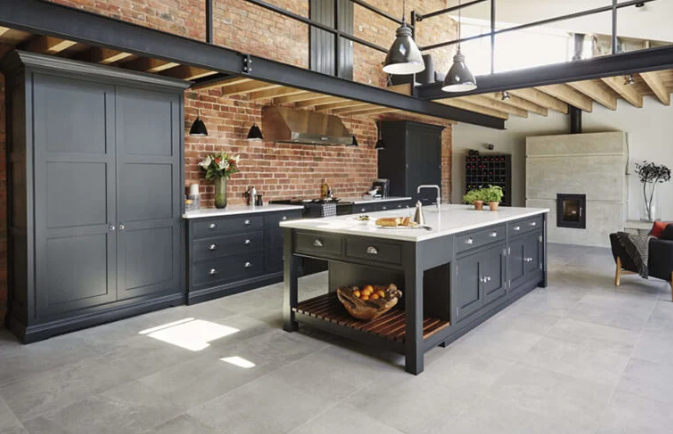 Make a Sketch:
Draw a rough plan or blueprint using grid paper for your kitchen layout. Label appliances, doors, windows, electrical, vents, and plumbing.
Note Horizontal Measurements:
Measure the wall space for a kitchen overhaul or existing cabinets for replacement from one wall edge to another. Measure openings such as windows and doors from one underside to another, excluding molding or trim.
Don't Forget Vertical Measurements:
Measure distance from floor to ceiling at each corner, including middle of each wall. Measure distance from kitchen floor to bottom of soffit.
Locate Central Point of Existing Kitchen Fixtures:
Find center point of sink, windows, and stove unless you want to change layout. Start at end closest to wall and measure toward stove or sink.
Inspect Other Components:
Pay attention to windows and doors. Exclude frames and trims in measurements. Measure objects' distance to ceiling and floor to ensure no obstructions.
Prepare Case Panels
Use circular saw to cut full sheets of plywood into manageable sizes for side panels and bottom shelves. Each side piece should have a 3x3-inch notch in the bottom front corner for a toe kick, using jigsaw or table saw.
Rip Face Frame Pieces
The front frame establishes location of drawers and doors and provides stiffness. Measure depends on number of preferred doors and drawers. You can rip face frame pieces from 1x6-inch boards.
Start Assembly
Attach side panels to face frames with pocket holes and use pocket screw joints to join boards with angling fasteners through edges. Secure bottom shelves with pocket holes to hide them. Attach strips of plywood to top interior of side panels to support cabinet top perimeter.
Build Drawers and Prepare Doors
Pre-stain ¼ inch plywood panel and build drawers using ¾-inch plywood screwed together with same-sized section nailed to bottom. Mount drawer slides. Construct cabinet doors depending on desired style.
Finishing Touches
Cut groove using regular table saw blade to fit plywood panels, use dado blade to cut tongues on end rails. Glue two rails and slide plywood panel into place. Paint cabinets desired color or spray clear water-based finish after sanding and staining. Install door hinges.
By following these steps, you can create your own custom kitchen cabinets that fit your design aesthetic and storage needs. Whether you opt for traditional or modern styles, solid wood or plywood, building your own cabinets can be a fulfilling DIY project with impressive results.
Contact BFP for your kitchen cabinet
Are you ready to design your dream kitchen? Contact BFP today and let us help you create the perfect custom kitchen that fits your style and needs. With a wide selection of styles, colors, and materials, we can bring your vision to life at an affordable price. Don't settle for a generic kitchen - let us help you customize your space!